AD Integration
NOTE: This feature is only available with Hermes SEG Pro License.
Hermes SEG requires a listing of Internal Recipients in order to process incoming email and deliver that email to the correct recipient mailboxes located on an email server(s) that are specified under the Gateway --> Relay Domains part of the system.
Hermes SEG allows you to connect to Active Directory in order to automatically import the SMTP email addresses of your Active Directory users without having to manually input each one. The system will create Internal Recipients from each SMTP address it imports automatically. The import process can also be set to run at a scheduled interval so user additions or deletions will automatically be handled by Hermes SEG without manual intervention.
In order to import Internal Recipients via Active Directory you must first create an AD connection.
Click the Create Connection button on top of the page (Figure 1)
Figure 1

Under the Connection Name field, enter a descriptive name for the connection
Under the Domain Controller field, enter the IP or the FQDN of a domain controller or simply enter the FQDN of your domain so you don't bind the connection to just one domain controller.
Under the Distinguished Name field, enter the DN of the recipients locations, or you can simply enter the DN of the entire domain. For example, if your domain is east.domain.tld, your DN should be DC=east, DC=domain, DC=tld. Ask your Administrator if you have any questions
Under the Object Class drop-down field, select user, organizationalPerson, person or top depending on the objectClass you wish to use to filter your AD users
Under the Netbios Domain Name enter your domain Netbios name. For example, if your domain is domain.tld, your netbios domain could simply be DOMAIN. Ask your Administrator if you have any questions
Under the Domain User Username field enter a username that has access to enumerate user objects in your domain
Under the Domain User Password field, enter the password for the username that has access to enumerate user objects in your domain
If you wish to schedule the automatic import of Internal Recipients on a specified interval, ensure you select Yes from the Schedule SMTP Address Import from AD drop-down, select the interval form the Schedule Import Frequency drop-down and click the Submit button (Figure 2)
Figure 2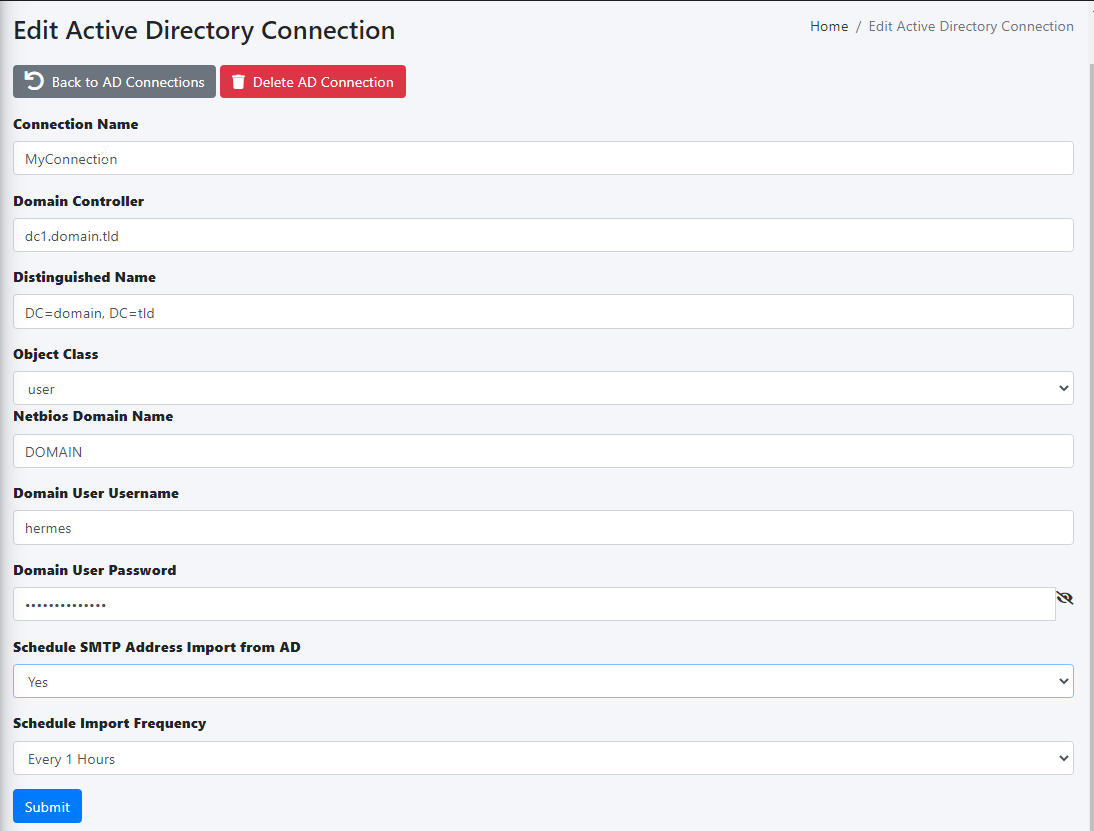 If you entered the correct information, you will get a Success! Changes saved message on top of the page, otherwise you will get a specific error message on top of the page depending on the error encountered (Figure 3)
Figure 3
Click on the Back to AD Connections button and back in the AD Integration page, you should see the newly created AD connection (Figure 4)
Figure 4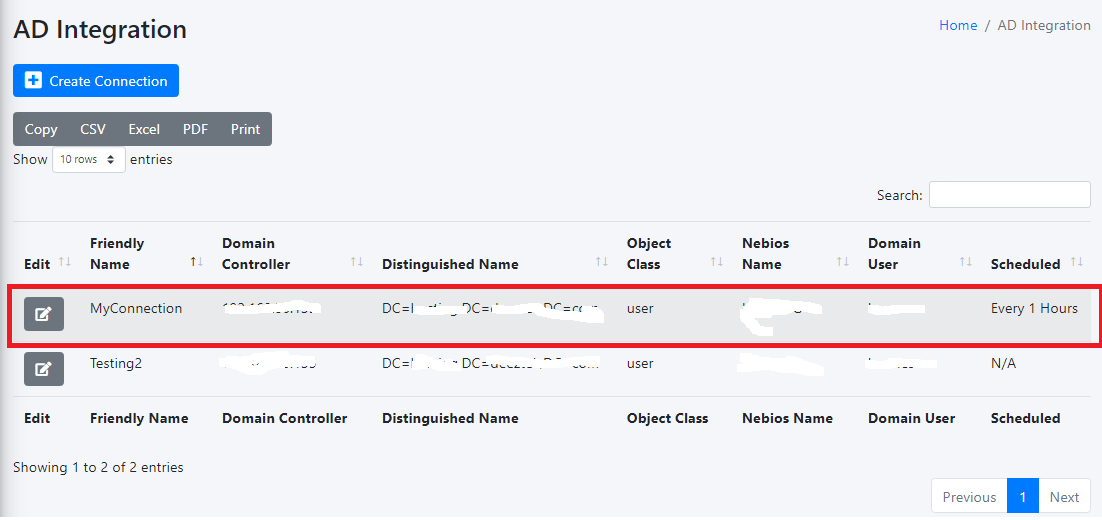 Clicking on the

button on an AD connection, will take you back to the Edit Active Directory Connection page which will allow you to edit or delete the connection